The Trash You Can't Throw Away: Things You Can't Put in a Rental Dumpster
It's finally spring - and for many people, that means it is time for spring cleaning. Projects like that often mean a lot of trash, even for those who would prefer to donate their unwanted goods to a local charity. If you are planning a large cleaning endeavor, or a construction project, call on Crown Carting for your
dumpster rental in Bergen County, NJ
. With a dumpster right on your property, you can store all your trash and then have Crown Carting safely haul it away. But to help you make the most of your dumpster rental, you should know that there are some items that cannot be accepted by our trash hauling services. These particular items require different disposal processes, and knowing a little bit about what is not allowed ahead of time can save you hassle and expense down the line, and help you select the appropriate dumpster for your needs from our wide variety of sizes.
Fuel for the Fire
Even if you rent a large, 40 yard dumpster from Crown Carting, you still cannot just chuck anything in it. Some restricted items are more intuitive than others; for example, it probably comes as no surprise that gasoline and propane tanks, even empty, are generally not allowed in rental dumpsters because of the risk of chemical contamination or fire hazards. If you need to dispose of propane tanks, many gas stations and grocery stores will take them off your hands—and some may even pay you a little bit for them. Similarly, gasoline tanks are often accepted by auto shops, who are equipped to dispose of them.
Cleaning Chemicals and Paints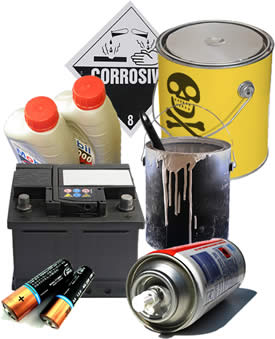 Your
dumpster rental in Bergen County, NJ
has to follow certain codes and regulations pertaining to the town, county, and state laws. Some of these regulations govern the disposal of chemical products in landfills. Even if a chemical does not pose a fire hazard, anything that could contaminate the landfill is forbidden and cannot go into a rental dumpster. Luckily, small amounts of cleaning chemicals can be thrown in your ordinary trash, as can most paints, and you can contact your local waste service for instructions on how to properly dispose of them. For larger amounts of these items, you might need to contact a specialized service.
Tires
Although they do not pose any chemical or fire risk, tires are not accepted by many landfills, and as such they are also not allowed by dumpster rental services. That said, it's generally pretty easy to get an auto shop to take them off your hands for you. These days, many tires are being recycled to conserve the environment and space. You will be happy to know that your old tires won't just be sitting on top of a mountain of tires somewhere once they are properly turned over to an auto shop!
Undertaking a large cleaning problem is enough work without having to fish through the trash for items that might not be accepted afterwards. By making sure that the above items are not among your trash, you can make the most of your Crown Carting dumpster rental and save yourself both time and money!